About Aidu | Olive leaf extract Manufacturer - Oleuimmu®
Oleuimmu®is an Olive leaf extract trademark of Shanghai Aidu Biotechnology Co., Ltd, a manufacturer, supplier and marketer of herbal extracts applied in dietary supplements, sports nutrition and food industries.
Aidu supplies authentic Oleuimmu® with the high quality that was confirmed by an international third part - Eurofins.
Oleuimmu
Serial Number
88948825
Registration Number
6398028
Word Mark
OLEUIMMU
Status
700 - Registered
Status Date
2021-06-22
Filing Date
2020-06-04
Registration Number
6398028
Registration Date
2021-06-22
Mark Drawing
4000 - Standard character mark Typeset
Published for Opposition Date
2020-11-24




Current Trademark Owners

Party Name
Shanghai Aidu Biotechnology Co. Ltd.
Party Type
30 - Original Registrant
Legal Entity Type
99 - Other (limited company (td.)).
Meet Oleuimmu® Olive leaf extract :

BOTANICAL ORIGIN
Olive leaf
BIOACTIVES
Oleuropein 20%
Oleuropein 40%
Oleuropein 50%
LATIN NAME
Olea Europaea L.
SHELF LIFE
3 years
APPEARANCE
Green to brown powder
CERTIFICATION
Kosher
ISO9001/22000
Oleaimmu® contains a natural source of Oleuropein standardised by HPLC. Oleuropein is one of the most important characteristic biomolecules from Olea europaea L. In different studies, Oleuropein has shown high antioxidant, anti-inflammatory activity and helps with glucose balance, supports immune system and C ardiovascular health.
Oleaimmu®is designed to enhance health naturally without side effects.
How does Oleaimmu® work?
Oleaimmu® and its bioactive compounds have shown three main mechanisms of action:
Macrophage and granulocytes stimulation to initiate a proinflammatory pathway to help combat pathogens.
Oleuropein breaks down hydroxytyrosol during the digestion, which may promote bacteria cell walls breaking, and cellular membrane damaging.
Oleaimmu® may attenuate the overall inflammatory state, reducing inflammation in several cell types.
Oleaimmu® may as well have a positive effect on glycemia regulation, thanks to the modulation of the activity of several enzymes.
The benefits of Oleaimmu® includes:
♦ Support Cardiovascular Health
♦ Support High Antioxidant
♦ Anti-Inflammatory
♦ Supports immune system
♦ Helps with glucose balance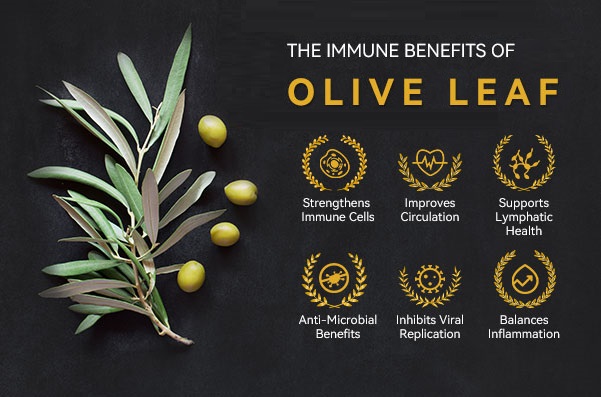 Why Oleaimmu®?
• 100% Natural
• Non-GMO
• BSE/TSE free
• ETO free
• Allergen free
• As traditional medicine used in the Mediterranean area that appeal to consumers as natural, effective, and safe solution.
• Produced by ISO9001/22000, HACCP, CGMP quality standard
• Heavy metals limits set forth under California Proposition 65
• PAH4 comply with European food regulations
• Tested by Third-part lab
Where to buy Oleaimmu® Olive leaf extract?
Oleaimmu® Olive leaf extract 20% oleuropein, 40% oeluropein, 50% oleuropein is available from Shanghai Aidu Biotechnology Co.,Ltd in China and USA
More on Oleaimmu®
We are here to help.
Have any questions? Need clarification? Need free sample?
Our representatives are here to help!
These statements have not been evaluated by the Food & Drug Administration. This product is not intended to diagnose, treat, cure, or prevent any disease.
References
[1] This is supported by research in published in the European Journal of Nutrition.
[2] Olive leaf has demonstrated high antioxidant and free radical scavenging properties published in the Journal of Alternative and Complementary Medicine.
[3] Oleuropein Is Responsible for the Major Anti-Inflammatory Effects of Olive Leaf Extract in published in the Journal of Medicinal Food
https://pubmed.ncbi.nlm.nih.gov/29099642/
[4] Several lines of evidence support the cardioprotective, anti-oxidant and anti-inflammatory activities exerted by OLEs in published in the Endocrine Metabolic Immune Disorders-Drug Targets (EMIDDT)
https://pubmed.ncbi.nlm.nih.gov/29149822/
[5] Olive leaf extract may represent an effective adjunct therapy that normalizes glucose homeostasis in individuals with diabetes in published in the Journal of Medicinal Food
https://pubmed.ncbi.nlm.nih.gov/22512698/