Epimedium extract

Epimedium extract
Latin Name: Epimedium Sagittatum
Active ingredient: Icariin
Purity: 10% & 20% Min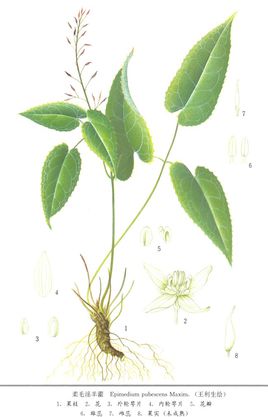 WHAT IS EPIMEDIUM EXTRACT?
Epimedium is a plant that comes from the botanical family 'Berberidaceae'. This plant is mostly found in China, with some present in other parts Asia and the Mediterranean regions.

The benefits of epimedium extract:
1. Aphrodisiac: Epimedium extract has long been considered as an extremely potent aphrodisiac. The compound icariin that is found in epimedium extract works by relaxing muscles by increasing the nitric oxide levels and increasing the blood flow to the sexual organs, thereby increasing libido and desire. This is definitely one of the main benefit of epimedium extract.
2. Controlling Asthma: A Chinese study has shown that Epimedium extract can be helpful in alleviating airway inflammation by decreasing the activities of some proteins that are responsible for the production of leukocytes in inflammatory areas in the lung, thereby helping with controlling the effects of asthma.
3. Erectile Dysfunction: Apart from being an Aphrodisiac, epimedium extract has been effectively used in the treatment of erectile dysfunction. In an Italian study, it was reported that icariin has the same effect on the erectile tissue in penis as Viagra.
4. Body Building and Sports: Icariin from epimedium extract has proven to be an extremely powerful and potent supplement for body builders and athletes, mainly due to its testosterone and Nitric Oxide boosting properties, both of which play a crucial role in athletic performance, especially in the area of endurance and body building.
| | | |
| --- | --- | --- |
| Appearance | Brown orange powder with characteristic odor | Visual |
| Identification | Passes all criteria tests | HPLC(Aidu Criteria) |
| Assay(Icariin, HPLC) | ≥10.0% | HPLC(Aidu Criteria) |
| Loss On Drying | ≤5.0% | USP〈731〉 |
| Ash | ≤5.0% | C561 |
| Sieve | 80 Mesh | USP〈786〉 |
| Heavy Metals | ≤10 mg/kg | USP〈231〉Method II |
| Pb | ≤1.5 mg/kg | ICP-MS |
| As | ≤1.0 mg/kg | ICP-MS |
| Hg | ≤0.5 mg/kg | ICP-MS |
| Cd | ≤0.5 mg/kg | ICP-MS |
| Residual Solvent | ≤5,000 mg/kg | GC |
| Pesticide Residue | Meet USP〈561〉 | USP〈561〉 |