Icariins powder s Powder (Horny goat weed extract)
Latin Name: Epimedium Sagittatum
Active ingredient: Icariins powder
Purity: 10% & 20% Min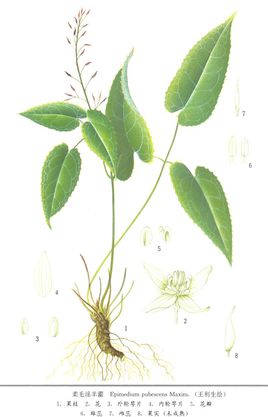 WHAT is Icariins powder s Powder?
Icariins powder s Powder is a chemical compound classified as a prenylated flavonol glycoside, a type of flavonoid. It is the 8-prenyl derivative of kaempferol 3,7-O-diglucoside. The compound has been isolated from several species of plant belonging to the genus Epimedium which are commonly known as Horny Goat Weed or Yin Yang Huo.[1] Extracts from these plants are reputed to produce aphrodisiac effects, and are used in traditional Chinese medicine to enhance erectile function.
1. Memory Enhancer: Studies have shown that the administration of Icariins powders Powder has been able to increase the blood flow to the brain and showed improved learning ability and memory. The effect is mainly attributed to the plant's antioxidant properties and its effect on the nerve impulses as well as the circulatory system.
2. Osteoporosis: Icariins powder has been proven to promote the growth and development of the osteocyte cells and contributing to bone remodeling, thereby indicating that it can be used as an effective drug in the control and treatment of osteoporosis.
3. Body Building and Sports: Icariins powder has proven to be an extremely powerful and potent supplement for body builders and athletes, mainly due to its testosterone and Nitric Oxide boosting properties, both of which play a crucial role in athletic performance, especially in the area of endurance and body building.
4. Women's Sexual Health: Whereas the effects of Icariins powder on Men's sexual health and performance is well known and documented, the administration of icariins powder can also improve the sexual health and performance of women by a huge margin, mostly owing to the production of Nitrous Oxide that improves the flow of blood to the sexual organs, clitoris and vagina. The strength of the icariins powder supplement for women, however is recommended to be much lower than men.
| | | |
| --- | --- | --- |
| Appearance | Brown orange powder with characteristic odor | Visual |
| Identification | Passes all criteria tests | HPLC(Aidu Criteria) |
| Assay(Icariin, HPLC) | ≥10.0% | HPLC(Aidu Criteria) |
| Loss On Drying | ≤5.0% | USP〈731〉 |
| Ash | ≤5.0% | C561 |
| Sieve | 80 Mesh | USP〈786〉 |
| Heavy Metals | ≤10 mg/kg | USP〈231〉Method II |
| Pb | ≤1.5 mg/kg | ICP-MS |
| As | ≤1.0 mg/kg | ICP-MS |
| Hg | ≤0.5 mg/kg | ICP-MS |
| Cd | ≤0.5 mg/kg | ICP-MS |
| Residual Solvent | ≤5,000 mg/kg | GC |
| Pesticide Residue | Meet USP〈561〉 | USP〈561〉 |