Product Details

Product Name: Rhodiola Extract Salidroside
Latin Name:Rhodiola crenulata
Active ingredient: Salidroside
Purity: 1%-3%
Salidroside, alternately known as rhodioloside, is considered the more powerful component in Rhodiola rosea. Some studies even suggest salidroside may be more active than rosavin. Salidroside is a glucoside form of tyrosol and can be found in Rhodiola crenulata, a species related to Rhodiola rosea found specifically in China.
Research identifies that salidroside may have a variety of positive effects throughout your body. Some studies show that salidroside may have adaptogenic properties. Adaptogens refer to any compound that may help your body adapt to the physical drawbacks associated with stress as well as maintaining homeostasis.
Salidroside may also support nerve health. Studies suggest that salidroside may promote nerve repair processes, regulate the release of neurotransmitters, and protect cells. One study found that salidroside may protect nerve cells from toxins and other harmful substances while promoting cognitive function.
Salidroside has also been found to potentially support skeletal health as well. A study tested the effects of an isolated salidroside extract on bone. The study found that salidroside may protect against oxidative stress. This suggests that salidroside may support bone development.
Specification sheet:
| | | |
| --- | --- | --- |
| PRODUCT NAME | Rhodiola Extract | |
| LATIN NAME | Rhodiola crenulata | |
| SHELF LIFE | 2 years | |
| ITEM | SPECIFICATION | METHOD |
| Appearance | Brown Yellow Fine Powder | Visual |
| | | |
| Assay(Salidroside,HPLC) | 3.0% Min | HPLC |
| Sieve Analysis | 80 Mesh | USP〈786〉 |
| Loss On Drying | 5.0% Max | USP〈731〉 |
| Ash | 5.0% Max | USP〈281〉 |
| Heavy Metals | 10 ppm Max | USP〈231〉method II |
| Pb | 1.5ppm Max | ICP-MS |
| As | 1ppm Max | ICP-MS |
| Hg | 0.5ppm Max | ICP-MS |
| Cd | 0.5ppm Max | ICP-MS |
| Residual solvent | 5000ppm Max | GC |
| Pesticide residue | Meet USP〈561〉 | USP〈561〉 |
| | Microbiology Control | |
| Total Plate Count | 1000cfu/g Max | USP〈61〉 |
| Yeast & Mold | 100cfu/g Max | USP〈61〉 |
| E.Coli | Negative | USP〈61〉 |
| Salmonella | Negative | USP〈61〉 |
| NON-IRRADIATED. | | |
| | | |
Heavy Metals Test Report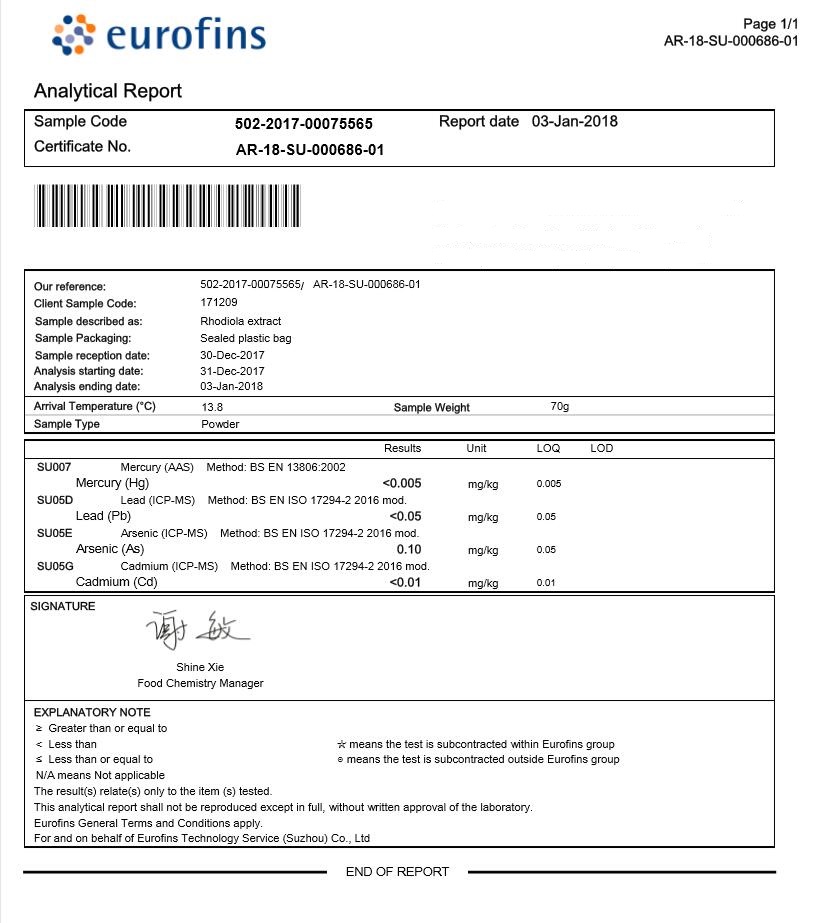 Hot Tags: salidroside, suppliers, manufacturers, seller, distributors, vendor, factory, wholesale