Product Details
Latin Name: Rhodiola rosea L.
Active ingredient:3% Rosavins & 1% Salidroside
Rhodiola is known as "golden root" or "arctic root" in the mountainous parts of Europe and Asia, has long been employed in Eurasian traditional medicine as a natural tonic, referred to as an "adaptogen." Adaptogens can help your body adapt to physical, chemical, and environmental stress. Rhodiola is one of the most effective in this family, due to containing active compounds like rosoavin that have the ability to help balance the stress hormone, cortisol.
Uses of Rhodolia
Rhodolia is believed to be effective in the treatment of several conditions:
Anxiety and depression
Fortification of the lungs, heart and spleen
Repairs and restores the nervous system
Relieves stress
Improves cognitive function
Aids recovery from adrenal exhaustion
Helps as a tonic for general debilitation
Aids muscle recovery, and is particularly used by athletes involved in endurance sports
Specification sheet:
Rhodiola Rosea Extract

LATIN NAME

Rhodiola rosea L.

ITEMS

SPECIFICATION

METHOD

Appearance

Brown fine power with characteristic odor

Visual

Identification

Passes all criteria tests

HPLC(Aidu Criteria)

Assay(Rosavins, HPLC)

≥3.0%

HPLC(Aidu Criteria)

Assay(Salidroside,HPLC)

≥1.0%

HPLC(Aidu Criteria)

Loss On Drying

≤5.0%

USP〈731〉

Ash

≤5.0%

C561

Sieve

80 Mesh

USP〈786〉

Heavy Metals

≤10 mg/kg

USP〈231〉Method II

Pb

≤1.5 mg/kg

ICP-MS

As

≤1.0 mg/kg

ICP-MS

Hg

≤0.5 mg/kg

ICP-MS

Cd

≤0.5 mg/kg

ICP-MS

Residual Solvent

≤5,000 mg/kg

GC

Pesticide Residue

Meet USP〈561〉

USP〈561〉
Heavy Metals Test Report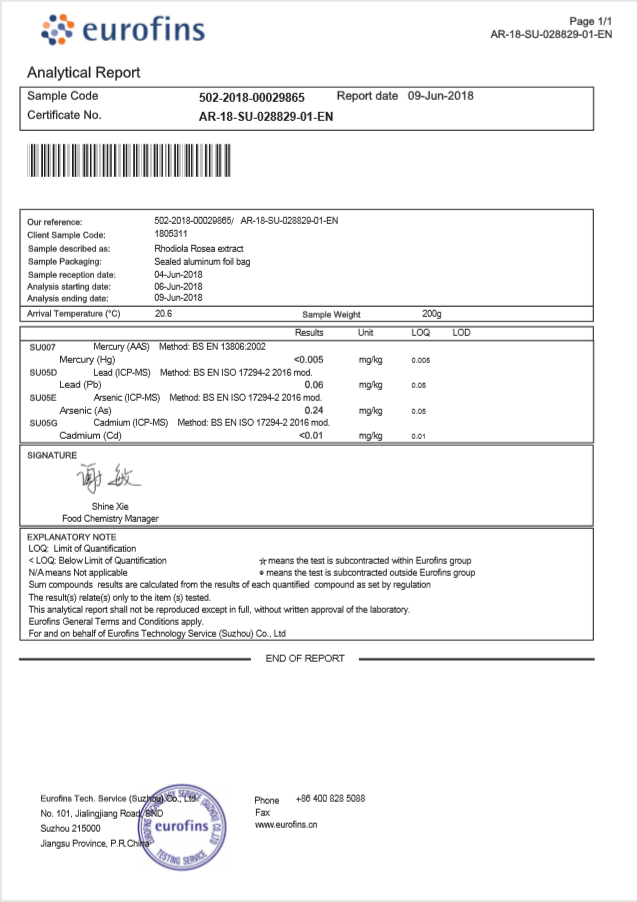 Microbiology Test Report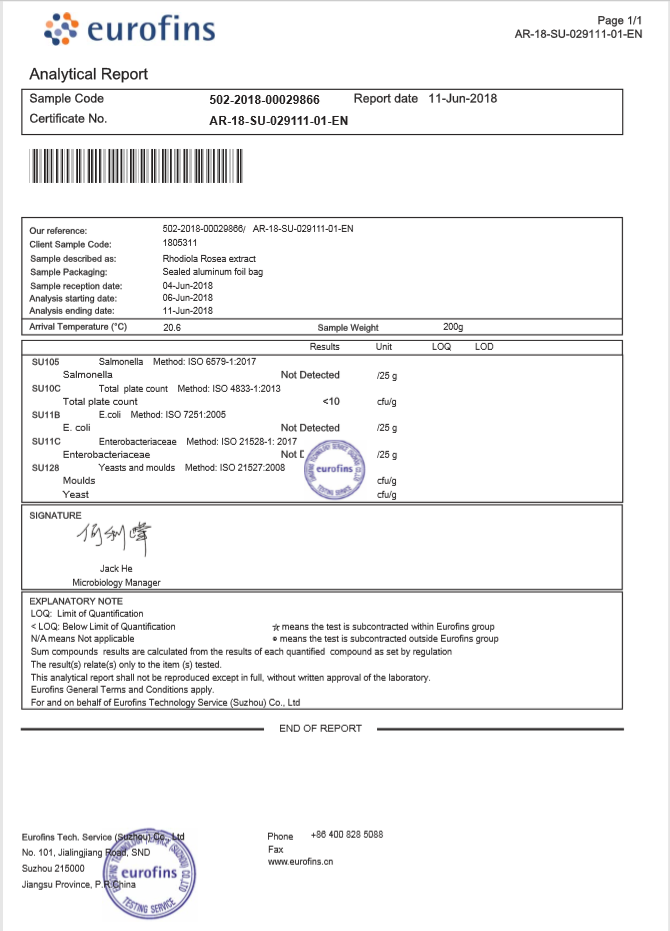 Pesticides Test Report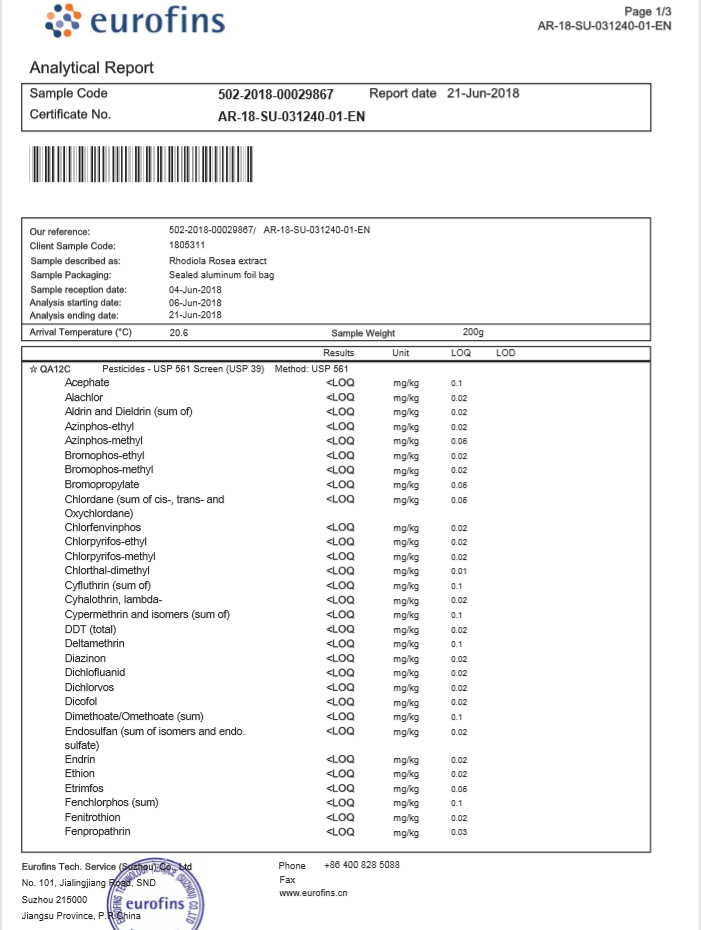 Hot Tags: rhodiola, suppliers, manufacturers, seller, distributors, vendor, factory, wholesale